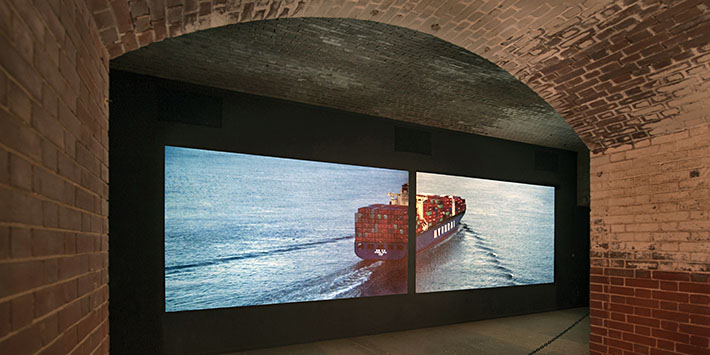 I joined Jim McKee and Joan Jeanrenaud in realizing the soundscape for Doug Hall's large-scale video installation Chrysopylae.
Chrysopylae is a double video projection that was commissioned by the For-Site Foundation for its exhibition International Orange (May 24 – October 28, 2012). The exhibition included the works of sixteen artists and was part of the 75th anniversary celebrations of the Golden Gate Bridge. All of the projects were installed at Fort Point, the historic 19th century fort located beneath the southern span of the bridge. Chrysopylae (Greek for Golden Gate) was the name given to the straight between San Francisco and the Marin Headlands by the explorer John C. Fremont in 1846.
The video was shot with two HD camera that were synched to one another, allowing for the creation of large, two-screen panoramas. The video focuses on the bridge, seen over time and under differing weather conditions, and on the immense container ships that pass beneath it every day. The two synchronized projections (6'9″ x 12′ each) loop every 28 minutes.
The sound track was composed by Jim McKee and Joan Jeanrenaud, with sound design and additional composition by Jeremiah Moore. The project was produced by Starr Sutherland.
Recording sessions took place at Fort Point, Jim's North Beach studio, Joan's home, and my Lower Haight studio.  Mix was completed on site.  Playback was via a very satisfying 3.1 Meyer UPJ system with cardioid subwoofer array.
https://vimeo.com/43634333
password: goodsound
In 2013 San Jose Museum of Art hosted a version with 5.1 channel mix.